The 23-man roster for the U.S. in June's World Cup was just announced live on ESPN. I love the extra attention this garners. Now that I've heard the selections, I'm sure all of my dear readers are eagerly wondering just what I think (well maybe one of you will be). So without further ado, I'll break these down by position:
Goalkeepers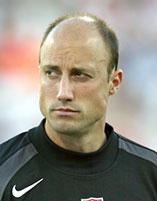 Kasey Keller
(
pictured
)- Any discussion of Goalkeeper for the U.S. begins with Kasey Keller, the undisputed starter. He's been the MVP of the national team for as long as I can remember (only briefly giving up that spot to Brad Friedel, whose now retired, about four years ago.
Tim Howard
– The keeper of the future at the biggest club in the world, Manchester United. I definitely don't doubt his potential, but I have questions about his playing time backing up Edwin Van Der Sar (Holland's starter) this year. Good pick, if only to get him ready for 20010.
Marcus Hahnemann
– He's been playing stellar keeper during Reading storm through the Championship in England this year. Due to his current form, I'd call him Kasey's first backup.
Absolutely zero surprises in these selections.
Defense
Carlos Bocanegra
– This selection is no suprise since he starts in the Premiership and he brings versatility to the squad. A natural center-back, he can also play the wide back if necessary. He's probably not in the starting four at back, but will probably see a good bit of playing time next month.
Steve Cherundolo
– No surprise here either as he has been solid through qualifying and plays well for his club, Hannover 96, in the German Bundesliga. Probably the starting left back. He can also help aid the attack.
Jimmy Conrad
– This selection surprises me a little bit. Sure, he's been playing well in MLS, but he hasn't impressed me during the last few international matches. All in all, probably a serviceable backup.
Cory Gibbs
– I'm glad to see Gibbs on the lineup, as many pundits were doubting he'd make the cut. He'll provide valuable cover for the two starting center backs as he is big and rarely beaten in the air. His pace and conditioning will be key as well.
Frankie Hejduk
– Death. Taxes. Frankie Hejduk. One of these days the U.S. will be deep enough at right-back that Frankie won't have to go. We obviously aren't there yet. That said, I love his energy despite his occassional mistakes. He can definitely make the overlapping run and give an opponent fits. Right now, I think he'll be backing up Steve Cherundolo.
Eddie Lewis
– Talk about versatility; Lewis plays midfield for Leeds in the English Championship, but has accepted the role of left back for the U.S. A deadly crosser, he has shown the ability to track back and move forward in the attack. Ladies and gentlemen, here's your starting left back.
Oguchi Onyewu
(pictured) – I predict that Onyewu will have one of those breakout World Cups that will have bigger clubs calling Standard Liege, his Belgian team. Big, powerful, and skilled, he'll be the key to shutting down opposing forwards and midfielders–no small task when you have to face the Czech Republic and Italy in the first two games.
Eddie Pope
– Defender of American Soccer. Eddie's playing in his third World Cup and will probably start alongside Onyewu. I like his inclusion for his considerable experience, but am glad that Gibbs will provide cover for him.
I'm a bit surprised that
Greg Berhalter
didn't make the cut as he has been solid, if not exceptional for the national team. If he was relegated to the alternates list to make room for Gibbs though, I'm OK with it.
Midfielders
DaMarcus Beasley
(
pictured
) – I think Beasley will be the spark plug that generates the offense for the U.S. He's already the first U.S. player to play in a Champion's League semifinal last year with PSV Eindhoven in Holland. While he is slight, he makes up for it with incredible hustle and skill. And he's not one to back off either. He'll be the one getting hacked at by opposing defenses and bouncing right back up. A definite starter.
Bobby Convey
– Last year nobody thought he'd be on the squad. What a difference a year makes, especially when you're a key cog in helping a team get promoted to the Premiership in England. He won't start, but will probably come off the bench to try to generate office (and backup Donovan).
Clint Dempsey
– See above. Clint has really brought his game to another level with the national team this year. An inventive dribbler with height and speed, I think he'll also provide spark from the bench.
Landon Donovan
– The Golden Boy (or Mama's boy depending on your point of view). Donovan's story is long. Youngest U.S. player signed abroad (Bayer Leverkusen in Germany). Got homesick, tried again, got homesick, came back to be a big fish in a small pond in LA. All that said, he'll be starting as the attacking midfield, and his game will be crucial to the U.S. chances. He'll need to feed McBride and create chances during the run of play.
Pablo Mastroeni
– Mastoeni wasn't supposed to make the squad for the last World Cup, but made it due to an injury to Chris Armas. Since his outstanding performance then, his presence is expected. He may start, depending on the formation and whether on not John O'Brien is healthy or not. If he does, he'll be the defensive midfielder allowing the outside backs to forage forward. He'll be crucial hooking up the defense with Claudio Reyna.
John O'Brien
– He will start if he is fit. He played every minute in 2002 and was a big part of the run. Of course, his fitness has been a concern ever since then. He's a creative player that can hold his own along side Reyna and help feed the ball forward. If he's not healthy, look for a combination of Ben Olsen and Pablo Mastroeni to fill his shoes.
Ben Olsen
– If you'd told me last year I'd be happy to have Ben Olsen on the team this time around, I would have probably called you crazy, but I am (happy and crazy may be debatable too). He's had a string of fine performaces, both in a national jersey and in MLS. While I don't see him starting, he'll provided valuable minutes off the bench and is capable of putting the ball in the back of the net. I also love his work ethic on the field.
Claudio Reyna
(
pictured
)- Our captain. Captain America. The only U.S. player to be named to the all-World Cup team, ever. He is the indispensable man. He makes it all work–holding the ball in midfield, linking the defense to the attacking midfield. And this is probably his last World Cup.
No surprises here either.
Forwards
Brian McBride
(
above
) – McBride will be the main option up front next month. He make work as a lone forward with lots of midfield support, or he may pair with Wolff or Johnson. He's the only U.S. player to score in two World Cups for the U.S. He got the teams lone goal in France in 98 and scored two game winners in 2002: against Portugal (pictured) and Mexico. This image is my favorite from 2002, especially since it took a couple of phone calls from friends to convince me that I wasn't dreaming that we were beating prohibitive favorite Portugal.
Eddie Johnson
– Eddie is just coming back from injury, but if he is fully fit next month, I expect him to do some special things. When he was first called up to the national team, he set the world on fire, including scoring in the qualifying win over Guatemala. He has the potential to be an electric player, and if he can partner with McBride, he may make things very interesting for the Czech Republic and Italy. I expect him to be McBride's partner when the U.S. features two forwards.
Josh Wolff
– Wolff has proven himself to be effective next to McBride, and while he doesn't have the nose for the net that Johnson does, he does have speed to burn. Expect him to give slower defenses fits (Mexico, I'm looking at you).
Brian Ching
– This selection really surprised me. While he's been looking good in MLS, he hasn't impressed me at all when playing for the national team. Sure, he looks good in a Houston kit, but only if he plays teams named Colorado. I expect that he's the emergency backup to McBride since they have similar games (if not similat results),
The only surprise in this group is the inclusion of Ching over
Taylor Twellman
, who, while he's as slow as a donkey, has shown the ability to score for the national team (albeit a bit belatedly). At least Cobi Jones will be finally watching from home.